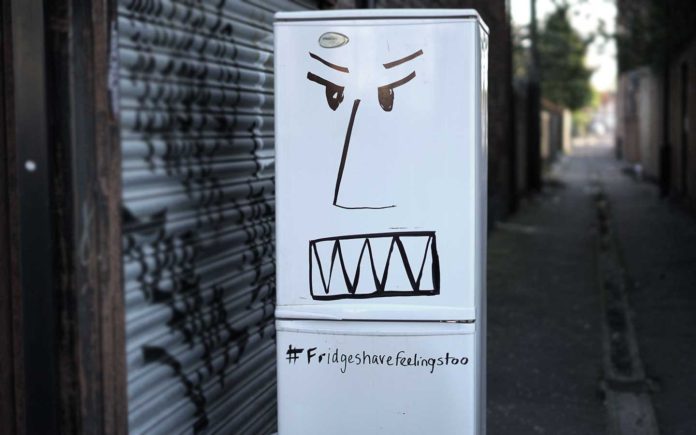 How many times have you stopped and started a diet?!
How much money have you spent on the next magical weight loss plan?
How many times have you found yourself in the middle of your kitchen stress eating cereal, cookies, or the jar of peanut butter?… you name it I've done it too… And so many people have
When it comes to your nutrition — you are a total creature of habit.
If it works why mess with it?! That being said I wanted to share some of my grocery staples for clean eating. These are the foods I buy every week without fail.
Also, check out the bottom of the post for a pin-able clean eating grocery list
The Clean Eating Grocery List. Complete Control Over Ingredients.
The first benefit of the clean eating grocery list is that you have complete control over all of the ingredients used in the meal.
You can decide just how much fat you want on your meat, what sort of vegetables you want to use, and whether you put one or two teaspoons of salt.
Having control over the ingredients means you control just how healthy that meal is.
Sure, you can go to the frozen section and buy meals labeled as "healthy", but there are a couple of problems with that solution.
One, it is hard to tell just how healthy those meals really are. They still often used processed foods that contain unwanted salts and fats.
You might like: Discover Magical Properties of Flaxseed Oil. Healthy Nutrition For Skin, Hair, And Body.
Two, those meals rarely taste delicious. By cooking your meals at home you can make them healthy as well as delicious.
And finally, healthy foods from the store are typically far more expensive. You can usually buy the ingredients and make the exact same dish for less than a quarter of the price. That brings up the second benefit of home-cooked meals.
Clean Eating Grocery List: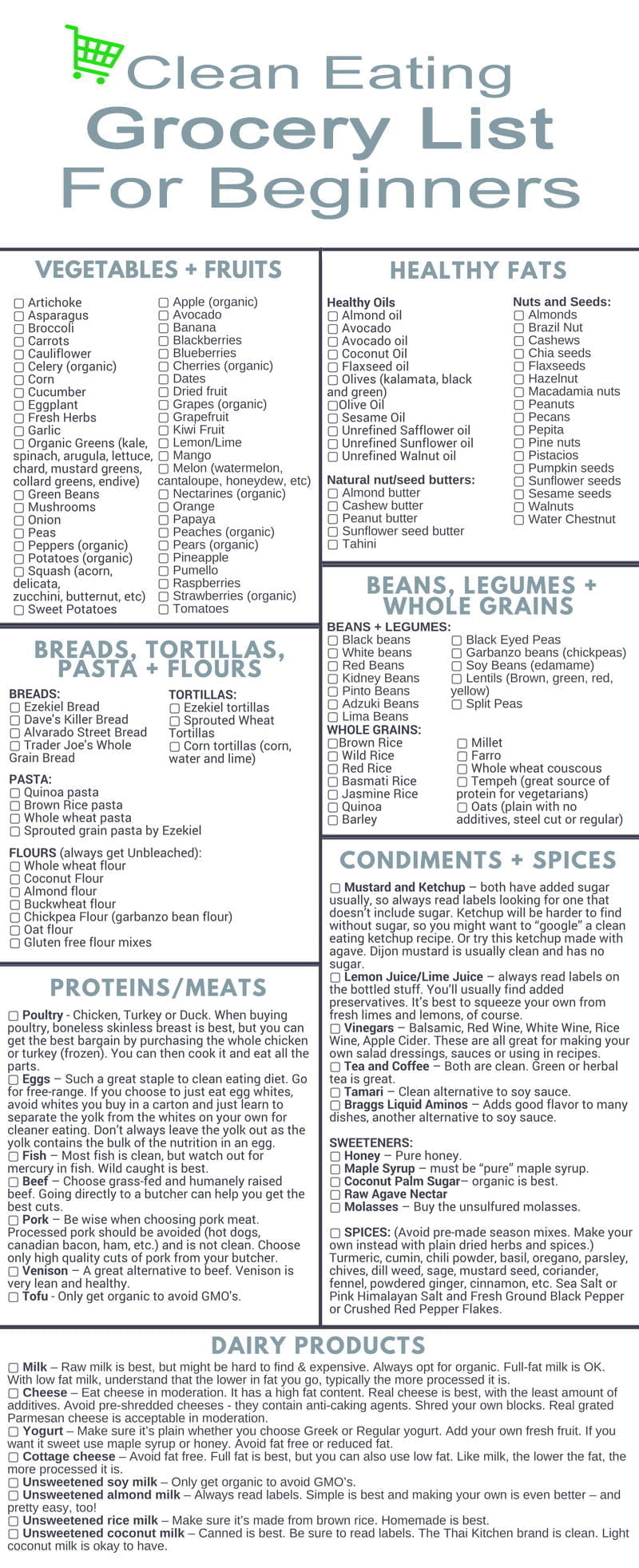 Extra Free Printable Poster. The New Keto Diet Food List.
Keto diet: What we need to know before we start. What to eat? What is the transition period? And many more.
We use various means to improve health, well-being, and figure. One such tool is the Keto diet. What is it? How does it work? What do I need to know before trying?
The essence of a keto diet is to change the body's energy source from carbohydrates to fat, which creates the need for the body to burn energy deposits in your body.
In the traditional diet, fuel is derived from carbohydrates – they consume 65 – 70% of the total daily calories, and the ketogenic diet consumes the same amount of fat. They become an excellent source of energy due to the mechanisms formed in the body over many years.
But not everything is so simple… So let's dive deeper with this keto diet food list!

→ To Download Free Keto Diet Food List Printable Poster Click Here ←
Keto Diet – What's Going On In The Body?
Keto refers to ketogenesis, which occurs when the body begins to burn ketones (from fat) instead of glucose (from carbohydrates) to produce energy. The required amount of glucose, in this case, is made from the resulting protein.
Ketones are produced in the liver, and their production begins when the body's glucose stores start to follow (increased fat intake).
Related: Food For a Healthy Gut. Discover Purple and Blue Fruits and Vegetables.
In the liver, fat is converted into ketones, which provide energy to the body and brain. In a ketogenic diet, we get 70% of our energy from fat, 25% from protein, and only 5% from carbohydrates.
Healthy Food Alphabet, Or Facts About How To Eat
Food is necessary for life. Any meal is not for pleasure. Any meal provides the body with energy and nutrients for the life of the body.
 Eat to the fullest. The ratio of protein, fat, and carbohydrates during the day should correspond to approximately 1: 1: 4. Remembering these proportions is simple by following a rule: imagine a plate divided into three equal parts. Two of them are carbohydrates and the third is made up of protein and fat.
Various rations. The same products on the table – it is boring and does not allow the absorption of different nutrients. To get a complete set of vitamins, trace elements, and minerals, you need a long list of products: fruits, vegetables, meat, fish, nuts, dairy products, beans, bread, pasta, berries, and greens.
Eat more often. Sounds weird, but you need to eat more often in order not to gain weight. Have a strong breakfast, a normal lunch, and a modest dinner. If you want a snack, have a fruit snack and sour milk products the night before. This way you will not feel hungry and control the amount of food.
Carbohydrates are vital. It is the main source of energy because the body absorbs glucose during the breakdown. Carbohydrates are easily digested and enter the bloodstream quickly. When there is a lack of carbohydrates the body loses energy and starts using it from proteins that are in the muscles. In this way, the body loses a very important building material, as well as important hormones and antibodies.
 Less sugar. Too much sugar in the diet is another cause of being overweight. Therefore, read the labels carefully. Sugar is also hidden under names such as sucrose, honey, fruit concentrate, syrup, and more. Give up sweetened drinks as well.
 Eat more coarse grain foods. It contains a lot of good carbohydrates that are digested slowly and reduces the need to eat sweets. Protein should always be present. Protein builds the body's cells, and that's muscle food. Hormones, antibodies – also proteins. If the body lacks protein, immunity is weakened, hormonal balance is disturbed and substances are restored in the body. Fat cannot be avoided. Fat forms nerve fiber membranes, fats form nerve cells and are also needed for cell division and the synthesis of important hormones. Lack of fat can also cause a lack of vitamins that are needed by the nervous and hormonal systems. Animal fats must be only a quarter and all others must be vegetables. At least 600 g of fruits and vegetables per day. 
Related: Beware! There Are Everyday Products That Might Kill You One Day. [Toxic Food Poster]
Fruits, vegetables, and berries are rich in vitamins that are not found in other products. In addition to vitamin C, there are also carotenoids, folic acid, and flavonoids. Fruits and vegetables need to be eaten fresh or cooked, so they retain more vitamins and beneficial substances. Eat fish at least once a week. Fatty fish – mackerel, herring, or salmon – contain a lot of essential Omega-3 fatty acids that protect against heart disease. Dairy products in the diet. You can get your daily calcium from half a liter of milk and your vitamin B2 from a glass. Sour milk products are suitable for those who do not like the plain milk. These products are also beneficial to the body, as milk maintains the gastric microflora.
 Teach children to eat healthy food. The main cause of overweight is the formation of eating habits in childhood. After all, children are not able to distance themselves from the food they like, so they may not slip out of fast-food restaurants or candy stores.
 Move more. Weight gains when the body does not process the energy it receives. It doesn't matter if you ate more apples or roasted ribs. If the body receives more energy than it can use, it promotes overweight. The amount of calories depends on your lifestyle.
Calculate your activity. If you sit in the office all day, you use about 1600 kcal – this is a very low activity. If you exercise every day, you use up to 2500 kcal. Hard physical work takes away 4,000 and more calories a day. Therefore, the menu should be chosen according to the number of calories burned. Healthy food is not expensive. The most valuable product – the cheapest groats. In winter, buy frozen fruit instead of expensive fresh ones. Low-fat dairy products instead of fatty more expensive. Cook at home and do not eat in cafes – it will not only be cheaper but also healthier.
You might like: Discover the Nordic Diet. Insane Benefits or Typical Scam? [Infographic]